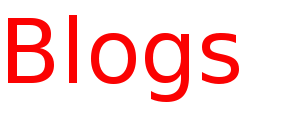 Come trovare nuovi blog partendo da parole chiave o da un blog già conosciuto?
Questa pagina elenca vari metodi per cercare blog, in continuo aggiornamento, grazie anche alle vostre segnalazioni!
Vediamo intanto di cosa stiamo parlando, vediamo che cosa è un blog.
Cos'è un blog
Un blog è un diario personale pubblicato sul web, e la parola stessa lo spiega, visto che è la fusione delle due parole inglesi web e log (diario).
Nel corso degli anni il concetto di blog si è evoluto, e se dapprima venivano pubblicati diari personali con post associati alla data di pubblicazione, poi i blog sono stati usati per pubblicare contenuti in cui la data di pubblicazione non era così vitale. È il caso ad esempio dei blog tecnici, dove è più importante il titolo, l'oggetto del post, che la data in cui è stato pubblicato.
Inizialmente i blog erano creati da un solo autore, poi sono nati i blog multi autore, così si possono trovare pubblicazioni effettuate da più persone con l'autore del caso specificato.
Raccolte di blog
Motori di ricerca per blog
Google – funzione blog: da una pagina di ricerca selezionare Notizie, poi cliccare su Strumenti, infine selezionare Tutte le notizie e scegliere blog. Questa è la funzionalità rimanente di quello che una volta era Google blog search (è stato chiuso nel 2011).
Google – ricerca ristretta: potete cercare blog su wordpress.com o su blogger.com scrivendo come ricerca "site:wordpress.com parole_da_cercare" o "site:blogger.com parole_da_cercare", dove parole_da_cercare sono le parole da cercare, separate da spazio
Blog finder
Se siete interessati a blog su WordPress.com, potete utilizzare Blog finder, che a partire da un blog elenca quelli di chi ha inviato un commento o un link. Tipicamente quindi saranno persone con interessi affini al sito da cui siete partiti.
Blogfinder mostra le icone rappresentative dei blogger, i gravatar, che potete cliccare per vedere ingranditi, insieme al blog del commentatore e al numero di commenti e like che l'utente ha inviato.
Qui potete trovare una descrizione in inglese di BlogFinder, scritto da me.
Curiosare nei blog
Molti blog riportano il cosiddetto blogroll, un elenco degli amici blogger o comunque dei blog che si vogliono indicare. È probabile che i blog contenuti nel blogroll siano affini a quello che lo contiene.
Un altro metodo, che è poi quello usato da BlogFinder sopra riportato, è cliccare sui commenti o sui like, che portano ai blog dei commentatori o di chi ha inviato un like, cioè di chi ha gradito l'articolo.
Raccolte
BlogsOfNote: Blogger cura un elenco di blog interessanti, come scrive sull'intestazione della pagina: Interesting and noteworthy Blogger-powered blogs, compiled by the team. – blog interessanti e degni di nota gestiti da Blogger, compilati dal team.